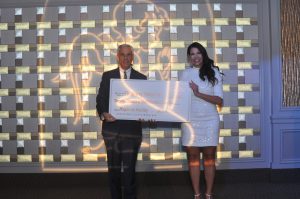 On Tuesday evening October 15th, Angels on the Bay held their 24th annual Anniversary Ball at Russo's on the Bay in Howard Beach.
Angels on the Bay is a non-profit corporation, founded by the Russo family the proprietors of Russo's On The Bay and members of the community to raise funds for children's programs and health care services.  The organization's primary goal is to help make a difference in the lives of children who are challenged by physical limitations, developmental disadvantages, and life-threatening diseases. To date, they have raised over $3.9 million dollars to help these causes.
This year, Flushing Hospital Medical Center and other hospitals within our region were awarded checks to support initiatives that provide care to pediatric patients.
Over the years, Jamaica and Flushing Hospital Medical Center have received a total of approximately $720,000 in donations from Angels on the Bay.
We thank Angels on the Bay for their generosity and support.   The MediSys Health Network looks forward to continuing our mission to improve the lives of our pediatric patients.