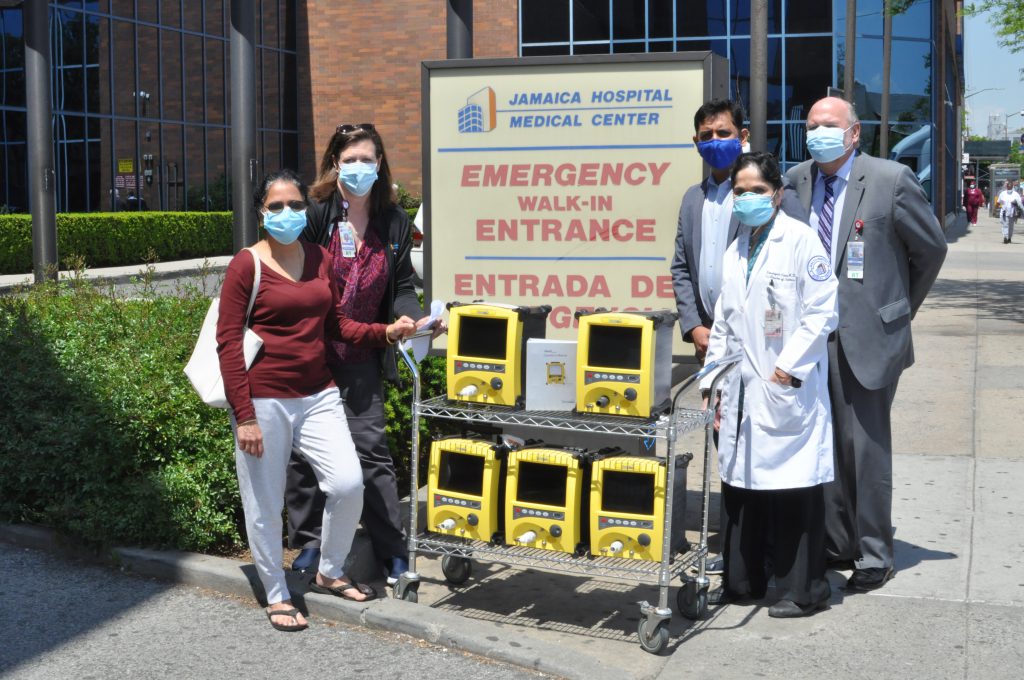 Jamaica Hospital and Flushing Hospital Medical Center were located at the epicenter of the COVID-19 pandemic last March and April. During that time, our hospitals were fortunate enough to receive support from multiple individuals and organizations.
Thankfully, positivity rates are declining in our area, but in other parts of the world people are still contracting the virus at alarming rates. One such country is India where hundreds of thousands of people are becoming infected and thousands are dying daily. Many are in desperate need of assistance.
Through two separate initiatives, employees within the MediSys Health Network answered the call to help by coordinating the delivery of much needed equipment to help those most in need.
One such effort was coordinated by Dr. Abhujeet Kaur, who works in Jamaica Hospital's Emergency Department. Dr. Kaur also volunteers for Khalsa Aid, a global humanitarian organization that generously provided Personal Protective Equipment (PPE) and meals to our employees while they bravely treating an extremely high volume of COVID patients last year. With the global focus now on India, Dr. Kaur, with the assistance of Ray Fredericks Jr. and his staff were able to coordinate the purchase and shipment of 500 oxygen concentrators, along with the transformers needed to operate them. These vital pieces of equipment were stored in the Network's warehouse and delivered to JFK International Airport by our employees before safely reaching India earlier this month.
In a separate relief effort, Dr. Dakshayani Guttal, a pediatrician for the MediSys Health Network and a volunteer with the non-profit organization Kannada Koota (KKNY) collaborated with respiratory care leadership at both hospitals to secure five manual ventilators. The life-saving devices arrived in India on May 25th.  Like Khalsa Aid, KKNY also supported the MediSyS Health Network by raising $5,000 to assist our efforts and donated meals to our employees.
We thank all those individuals who give so selflessly of themselves to help those most in need.