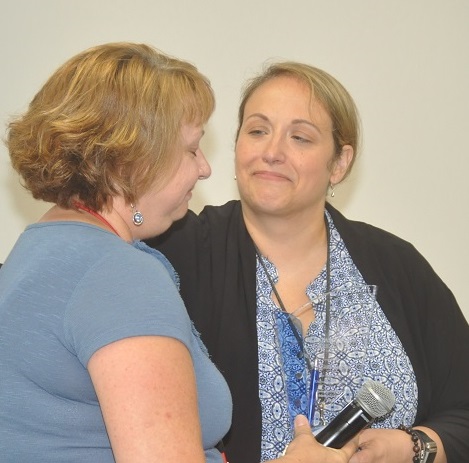 Dr. Gina Basello, Jamaica Hospital Medical Center's Vice-Chairperson and Residency Program Director of Family Medicine and Associate Director of the Hospice & Palliative Medicine Fellowship, was recently presented with the National Compassionate Caregiver of the Year Award.
The award was given to Dr. Basello at the conclusion of the Schwartz Rounds and came as a complete surprise.
According to the Schwartz Center for Compassionate Care, the pioneering organization of the Schwartz Rounds, "Finalists represent healthcare professionals who make a profound difference through their unmatched dedication to compassionate collaborative care." Dr. Basello was recognized for demonstrating a high level of compassionate care to patients and her devotion to creating "psychologically safe" spaces for healthcare providers to reconnect with themselves and the hospital's mission.
Dr.  Basello's passion for engaging patients and families in a culturally sensitive and person-centered manner is often reflected in her efforts to nurture the next generation of compassionate physicians.  Members of her team consistently receive high patient experience and satisfaction scores.
As a staunch advocate for providing a platform where healthcare workers can share their experiences in a supportive environment, Dr. Basello serves as a program moderator for the Schwartz Rounds at Jamaica Hospital.  The program was adopted by the hospital as part of its initiative to provide employees with a forum in which they could openly discuss emotional and social challenges encountered while caring for patients.
We recognize Dr. Gina Basello for all her achievements and congratulate her on receiving this well-deserved award.