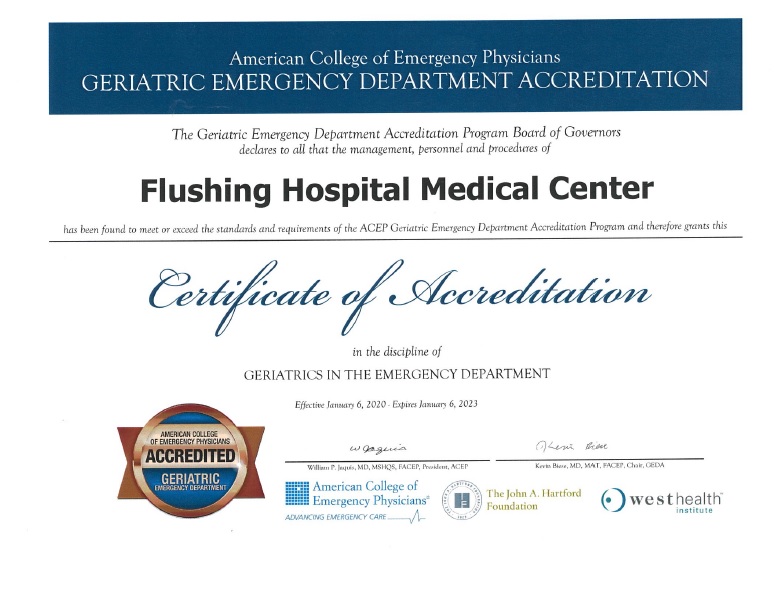 The average American is living longer now than ever before, and while this is very good news, it does require the healthcare industry to adapt to caring for a growing senior population.
Senior citizens utilize the hospital system at higher rates than non-seniors and they often require treatment for multiple chronic conditions. While seniors make contact with the healthcare system at many different points of care, the place where they most often receive their care is in the Emergency Department.
Understanding the special needs of its geriatric patients, Flushing Hospital Medical Center's Emergency Department has made many special accommodations to treat them. In recognition of their efforts, the hospital recently received a Geriatric Emergency Department Accreditation by the American College of Emergency Physicians. Flushing Hospital is one of the only hospitals in Queens to receive this accreditation.
"By receiving this designation, Flushing Hospital has set itself apart from other health care facilities by demonstrating a real commitment to the health and well being of our geriatric community," stated Dr. James Giglio, Chairman of Emergency Medicine at Flushing Hospital.
To achieve this accreditation, Flushing Hospital had to meet many criteria, including ensuring that physicians and nurses received focused education in geriatric emergency medicine. This training was aimed to help providers better understand and address the complex social and physical challenges of the geriatric patient.
In addition to receiving focused education, the hospital also needed to implement geriatric emergency care policies and guidelines, ensure geriatric patients received access to specific equipment and supplies, and even make accommodations to the emergency department's physical environment.
Congratulations to Dr. Giglio and his staff for conveying to their patients, colleagues and the geriatric community that Flushing Hospital Medical Center cares about the healthcare they provide to their geriatric patients.