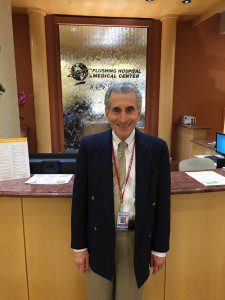 Flushing Hospital Medical Center has been selected as one of the eight awardees in New York State to share a $7.96 million grant through the Partnership Innovation for Older Adults Program. Each awardee will receive $1 million over a five-year time period.
The program supported by New York State Governor Andrew Cuomo requires recipients to "establish community programs that identify adults age 55 or older whose independence or survival in the community is in jeopardy because of a mental health, substance use, or aging-related concern."
Flushing Hospital through their partnership with Arms Acres and the New York City Department for the Aging plans to increase access to behavioral health and aging services by employing collaborative strategies which will utilize outreach and telemedicine technology to identify and engage older adults who may be at risk.  A part of this initiative includes the use of a mobile van staffed by mental health professionals to provide mobile outreach and off-site services. Dr. Chen, Vice Chairman and Dr. Ira Frankel, Administrator of the Department of Psychiatry and Addiction services are very pleased to be participating in this endeavor that enhances the value of all the hospital's services.
"This grant award is just one more confirmation from New York State that Flushing Hospital's Department of Psychiatry and Addiction Services is on the right path in advocating successful aging as a strategy of promoting good mental and physical health," said Dr. Frankel.