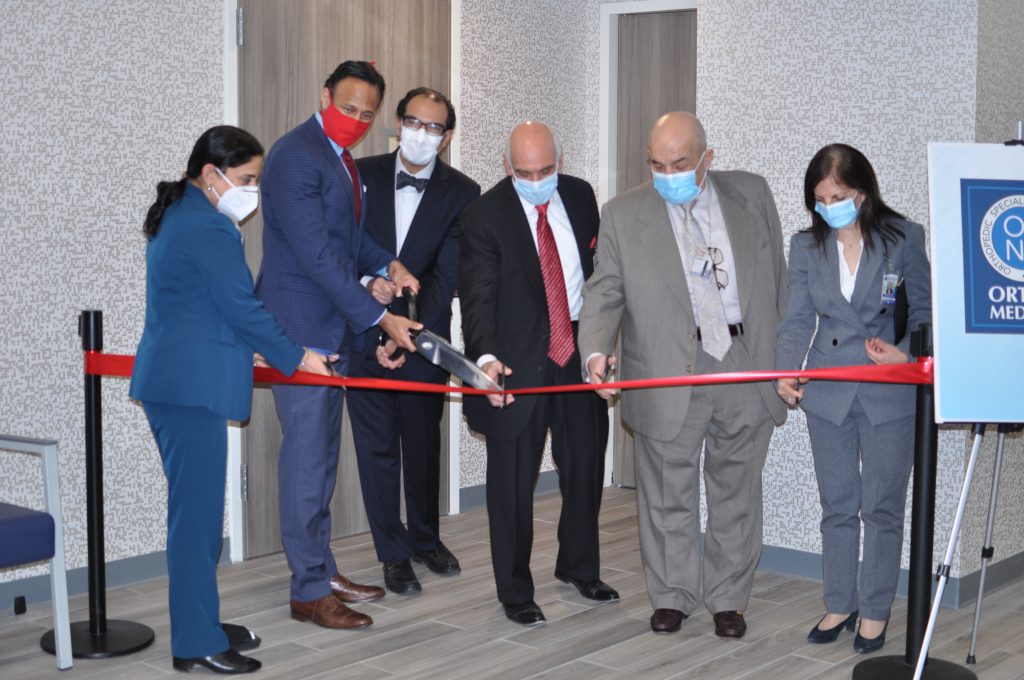 Jamaica Hospital Medical Center cut the ribbon for its new Orthopedic Surgical Center not once, but twice on Thursday, November 11th.
Due to COVID sensitivities, festivities for the new orthopedic surgery center, located on the ground floor of the hospital's Axel Building, were broken down into two separate events to allow for a maximum number of participants.
Those in attendance listened as Jamaica Hospital CEO, Bruce Flanz congratulated current and past Chairmen, doctors Sanjit Konda and Nader Paksima for their dedication to building one of the premier orthopedic surgical programs in the area and remarked on how proud he is to finally fulfill a promise made 23 years ago to build an ultra-modern facility to match the world-class care offered by our orthopedic surgeons.
Mr. Flanz went on to thank Jamaica Hospital's Engineering team, who did an amazing job in completing the construction of the center using entirely in-house talent. Dr. Konda and Dr. Paksima echoed their appreciation of not only our Engineering Department but also hospital administration, finance and supply chain departments, as well as the many others who helped make their dream of building this center a reality.
After the speeches were over and the ribbon was cut, guests had an opportunity to tour the 4,800 square-foot facility, which features eight exam rooms, two procedure rooms, a cast room, and a state-of-the-art imaging room which will allow our orthopedic surgery team to provide on-site treatment for adult and pediatric patients seeking care for hip and knee replacements, sports-related injuries, upper extremity injuries, fractures, tendonitis, carpal tunnel syndrome and arthritis, just to name a few.
The new orthopedic surgery center is scheduled to officially open to patients in the very near future.
To see a montage of remarks from both ceremonies, click here: